TRACK & TRACE
The complex distribution networks of supply chain and logistics are prone to product counterfeiting. With the use of Supply Chain Track and Trace Solution, which applies a unique RFID or serialized barcode identifier on items, packages, cases or pallets, the industry-wide concerns can be effectively resolved by providing a reliable product pedigree as it contains the traceable history of each ownership change along the supply chain.

Furthermore, it gives total transparency via a real-time centralized platform for information sharing to all related stakeholders across the entire supply chain, from sourcing, manufacturing, distribution, to wholesaling, and to Point-of-Sales (POS).


System Components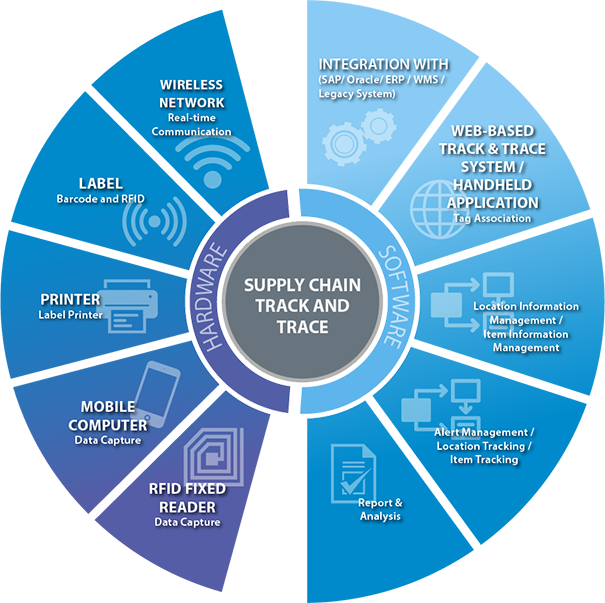 Features
Anti-counterfeiting query, real-time traceability / order mapping
Logistics Management/Avoid fleeing goods
Real time track and trace
Consumer Database, Directional Marketing
Logistics Process Tracking / Warranty & Maintenance / Label Printing


Compliant with industry best practices, our turnkey solutions meet the mandate of global standard and interoperate with various legacy systems. With the provision of real-time information, a reliable product authenticity can be ensured with accurate and better control of inventory.
In addition, through a real-time central platform, all relative parties in the entire supply chain, from procurement, production, distribution to wholesalers and cashier settlement, all can share information completely and transparently.
In accordance with industry best practices, the completed solution of Schmidt meets global standards and can interact with different legacy systems. The provision of real-time information ensures reliable product authenticity and its inventory is accurately controlled.